It is important for every citizen of India to have a voter identity card so that he can choose the government of his choice. If you are 18 years old and have not yet made your Voter ID Card, then you should make your ID card. Whether you want to make a Voter ID card online directly online. 
This will not require you to take a round of government offices and your voter ID card will be created without any hassle sitting in the house. Here, how do we apply online to create a voter ID card? Are sharing information about How to apply for Voter ID Card: Step by Step (with screenshots) Guide
Voter ID card is officially the honorable document in the country which can be used not only for voting but also for other things. With this help you can also make your other important documents.
You can apply online to create not only voter ID cards but you can also apply to correct any mistake in your voter ID card.
The process of applying for Voter ID is very easy. If there is a registration for voter identity card in India, then every state has its own website. Which you can use in your own language
You can do everything with the help of the Internet sitting at home to improve the name, address, spelling mistake, to apply the Voter ID card.
Before knowing about creating an online Voter ID card, we need to know who is required to apply for creating an Online Voter ID Card which is Documents
What are the Documents required to create an Online Voter ID?
Some important documents are needed to apply for making online voter ID card. For this, you must have Self Photo, Address Proof, Age Proof Documents.
Documents required for Voter ID:
You can use the following documents to prove your age and address.
1. Address Proof
Ration Card
Water Bill
Electricity Bill
Telephone Bill
Rent Agreement
2. Age Proof
Birthday Certificate
Marksheet of Class 10th or 8th
You can verify your address and age using one of these documents.
How to make or update online voter ID card?
How to make voter ID, How to make voter ID, How to make voter ID card, How to register your name in voter list?
Step 1: Visit NVSP Site
First of all go to the Election Commission NVSP (Nation Voters Service Portal) website https://www.nvsp.in .
Now click on the online option 

for new voter / due to shifting from AC

 option.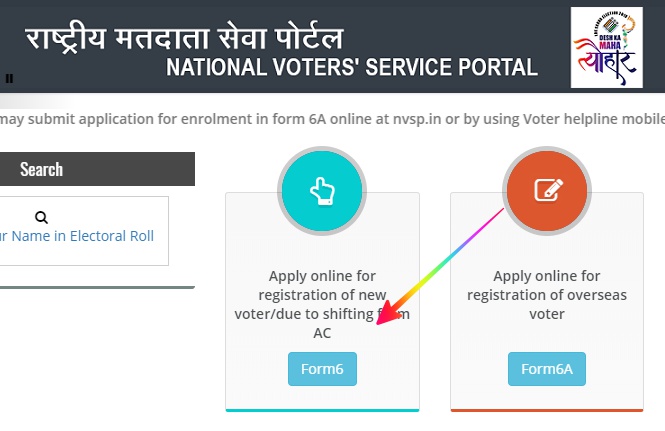 Step 2: Fill Form6
Now you will have a large form named Form6 named Open. In it you have to fill all your information exactly.
Because this form is a bit bigger, we are explaining it according to different steps.
2.1 – Application Constituency
First you select your language.

Now choose your state.

Select your district.

Choose your parliamentary constituency.

Now if you are applying for the first time then as a first time voter select.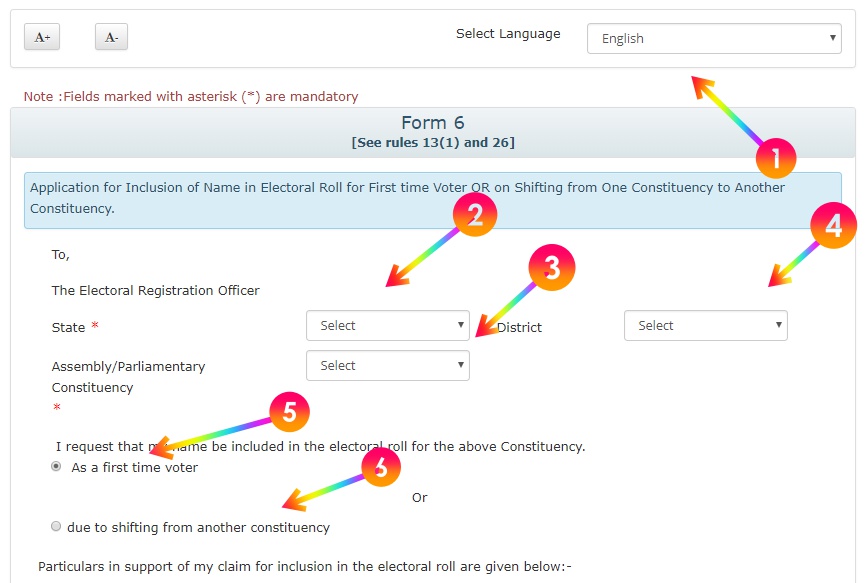 2.2 – Mandatory Particulars
Type your full name here. In Left side in English and in Right Side in your language (Hindi).

Write your surname in the surname if any.

In the Name of Relative of Applicant, write the names of one of your relatives who are already in the voter list.

Relative's Last Name or Surname.

Type of Relation has a relationship with your relative.

Choose your Date of Birth.

Male / Female in Gender of Applicant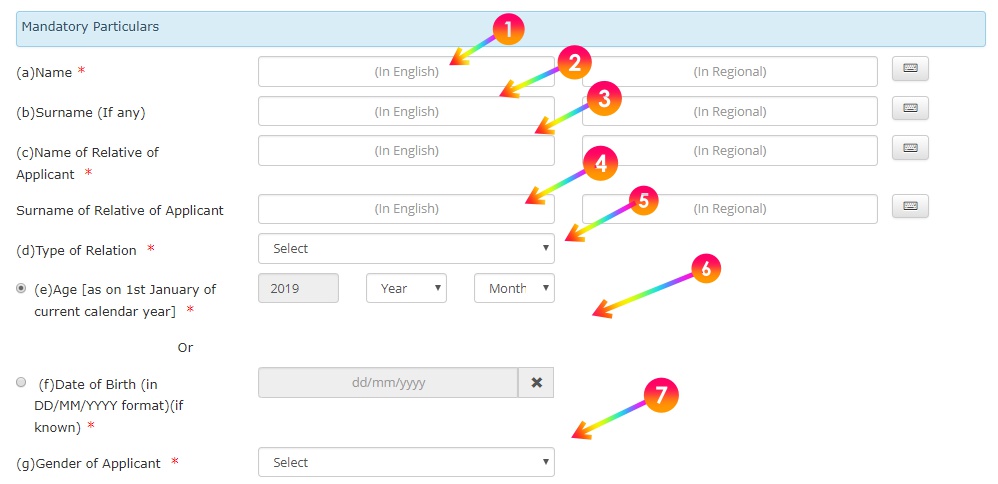 2.3 – Current Address
Current address where applicant is ordinarily resident in these options, you need to fill in your current address information.
Write your House Number.

Type your local address in Street / Area / Locality.

Select Town / Village.

Add Post Office.

Set Pin Code.

State Select.

Select District.

2.4 – Permanent Address
Here you have to fill your Permanent Address here. If your current address and Permanent address are same, then select Same as Abobe option.
Click on Same as Above.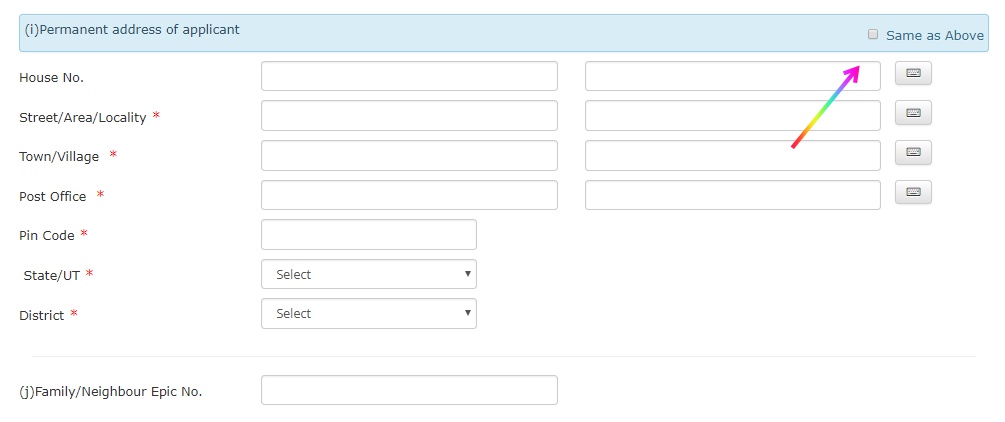 Step 2: Optional Particular
If you have any disabilities, then tick it otherwise do not tick anybody.

If you have an email ID then write or leave blank.

Type your mobile number here.

Step 4: Upload Supporting Documents
Upload your Password Size photo.

Upload the Documents which are for the Birth Certificate and select Type.

Upload the documents which are for Address Proof and select Type.

Step 5: Declaration
Write your Town / Village name.

State Select.

Select the district.

In Date you enter your birthday date.

If your voting list does not have a name, then tick it and if it is, then tick it below.

Write your district's name in Place.

Enter today's date in Date.

Finally click on Submit button.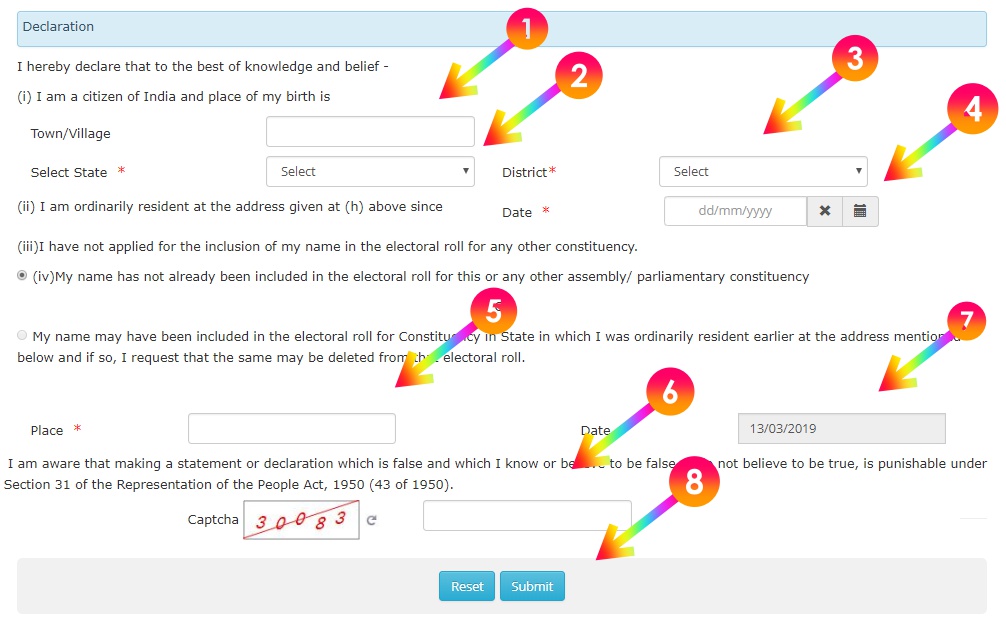 Before clicking on the Submit button, check your completed details and then click on the submit button after filling in the form.
Click on your submit button and your request will reach the Election Commission of India. After that he will verify it
After verifying, your Voter ID Card will be ready and it will be posted to your address. To check the Voter ID status, follow the steps mentioned in this post.
Conclusion,
This was the way to create an online Voter ID Card where we learned about the creation of the Voter ID card. In this way, you can easily create your own identity card at home.
I hope you liked the information about making an online Election Card and now you can easily apply online to create voter ID with the help of this post.